Sony SRS-XB23 EXTRA BASS Wireless Portable Speaker IP67 Waterproof BLUETOOTH and Built In Mic for Phone Calls
I found myself in the market for another Bluetooth speaker, due to the fact one of my daughters has somehow taken ownership of my previously reviewed gear4 StreetParty Wireless Speaker. It now takes pride and place in her room. This obviously leaves us without a speaker for picnics and back garden BBQ's etc.
I was looking for something that was relatively robust and durable, because we like to do a lot of outdoor activities like picnics and BBQ's so there is always the risk of the product been kicked, knocked off tables and generally accidentally abused. The other criteria is that although I wasn't in the market for the best quality audio I still wanted something that could be heard. All we really want is a good background speaker.
When it comes to Audio Visual equipment I usually have a strong preference to buy Sony products. Primarily based on the fact that I have never had a bad experience with them.
After careful search I finally opted for the Sony SRS-XB23 Extra Bass Wireless Speaker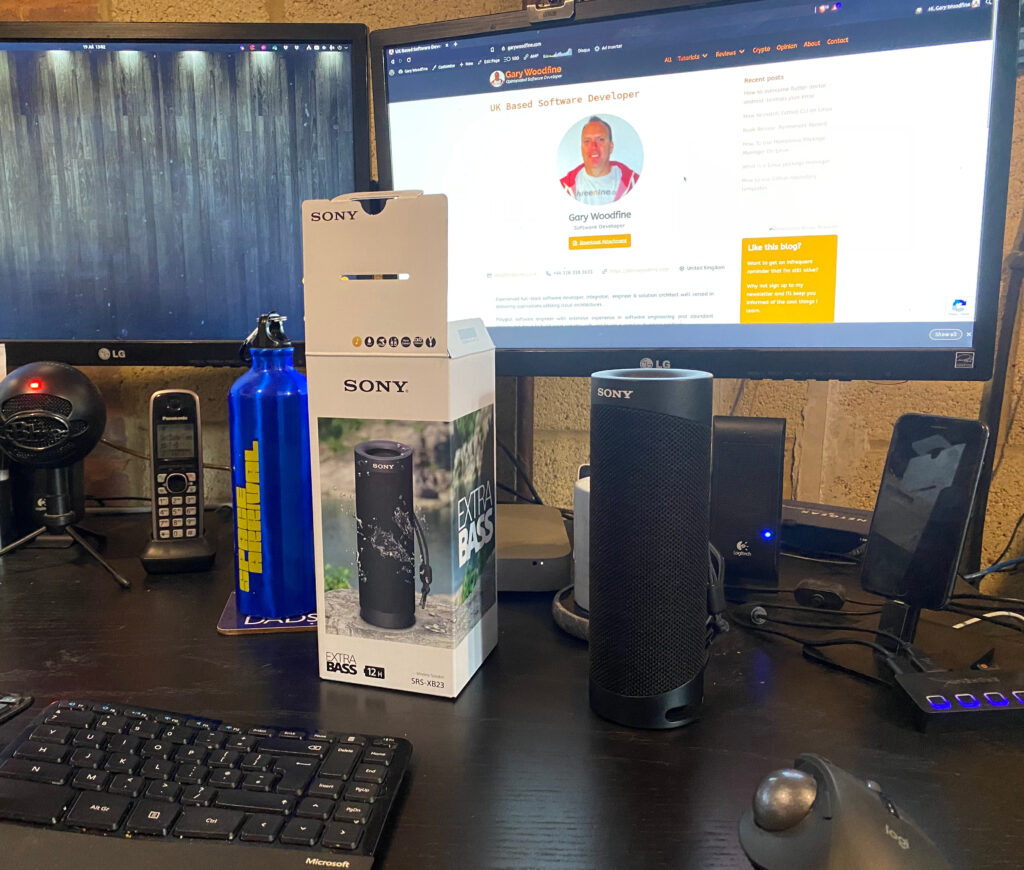 The SRS-XB23 is one of Sony's current range of made-for-outdoor Extra bass wireless speakers and I was pleasantly surprised how good it was for a middle of the range speaker.
I also chose to purchase the Hermitshell Hard Travel Case for Sony SRS-XB23Â just to provide extra protection for when we pack the speaker to take on picnics etc. However, this is just my personal preference but it is good to know that the SRS-XB23 also supports an IP67 rating, which means that the speaker is completely dust-resistant, perfect if you want to go hiking in the deserts in the Middle east or in my case visit the lovely sandy beaches in South Wales.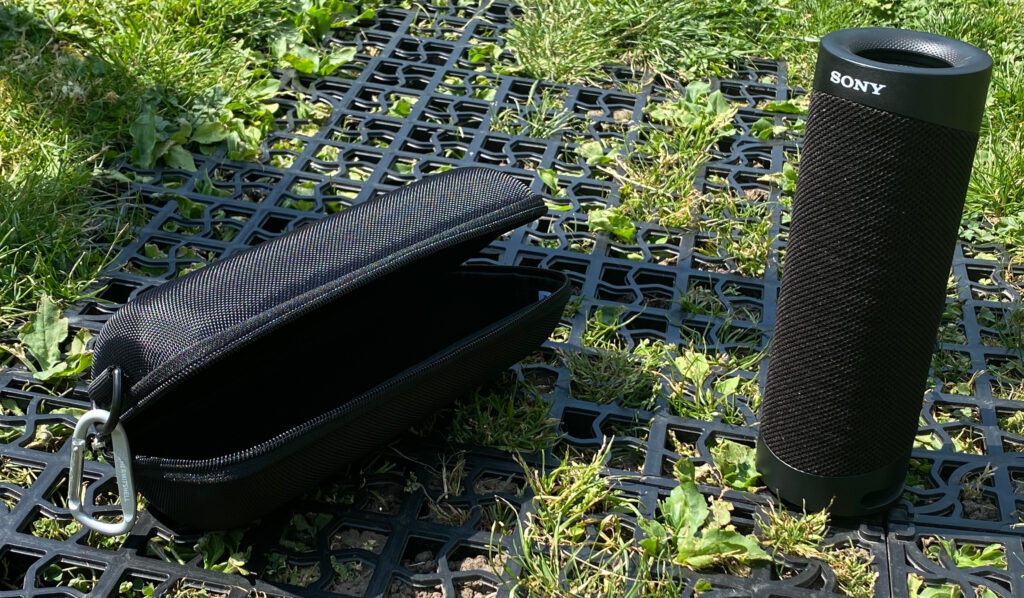 The speaker can also withstand splashes, rain and also being submerged for up to a meter of water for half an hour ( Saltwater resistant too!) These features make it an ideal companion for British summer day outings.
The case is also a useful storing the charging cable and any other paraphernalia that may be required by the speaker.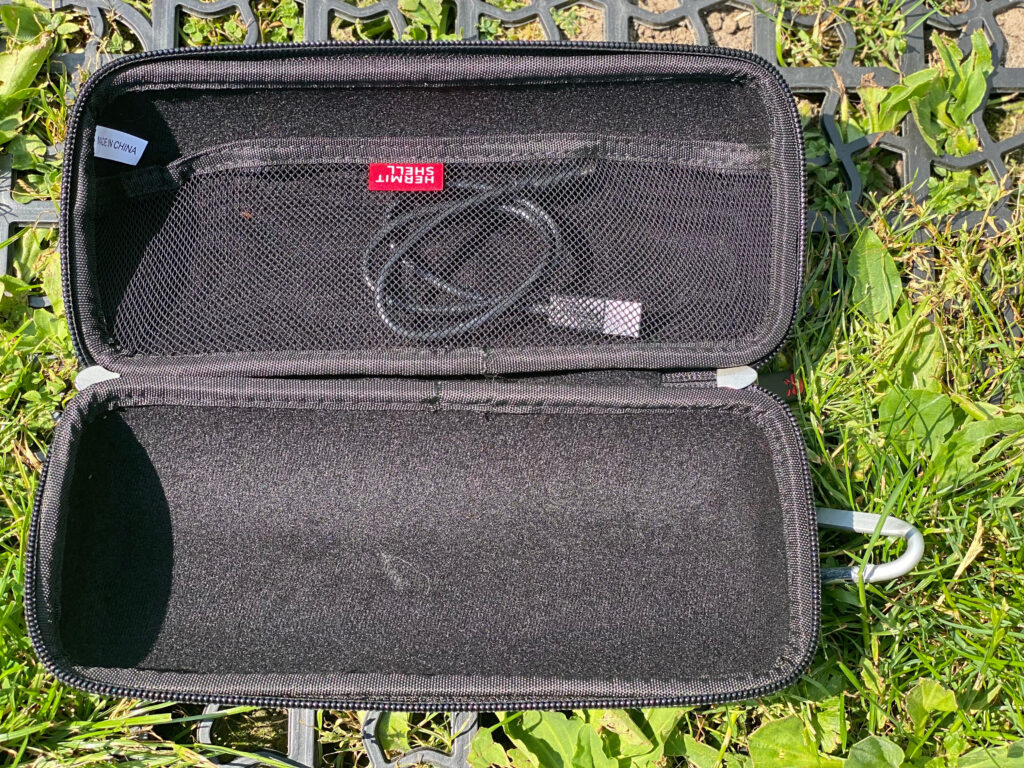 The cylindrical shape of the SRS-XB23 makes it easy to carry anywhere and although it comes in a variety of different colours I chose black.
The other colours include Blue, Green, Red and White.
The speaker is powered by a dual full-range driver with both ends of the speaker housing passive radiators for extra thump on the bass!
Pros
Connectivity
I have no problem connecting to the device from either iPhone or Android phones with no issues at all. The connectivity is smooth and once connected you can easily control the volume using your phone controls.
It is also possible to make and receive phone calls using the Hand-free profile using th Bluetooth connection. Although the I have to admit that although the output is great, the Microphone isn't that great and I have had some complaints from the people on the other side is that it's not that great when moving around.
On one occassion I was cooking the BBQ when my called and although functional and were able to have a conversation, she did say she found it difficult to hear me when I was walking around. Which for the most part is quite understandable.
Most of the controls are located on the back of the device and are easily identifiable and understandable. There are the playback controls along with the Bluetooth pairing button and a batter stats button which informs you how much battery capacity is available.
There is also the separate controls for the Party Mode option, which enables you to connect up to 100 other speakers in the SRS series and a ST Pair ( Stereo Pair) to connecting another speaker for stereo output.
There is a lanyard included with the speaker, which enables you to hang it anywhere.
Sound Quality
I have a very eclectic music taste and listen to almost anything from Thrash Metal to Country & Western and anything in between! I play the drums, bass and Rhythm guitar so I really love listening to the Rhythm section in most songs so I love the bass heaviness of the sound. Although, I'm not sure what Drum and Bass and Jungle would sound like on the device. But for the music I love and regularly listen too, it's just fine. Check out my Music to Code too playlist on spotify for a sample of stuff I like to listen too.
I suggest you download Sony's Music Center app (Android & iPhone) as it handles all the configuration options including any Firmware updates and EQ settings and Power saving modes.
The diaphragm's off-centre design goes a long way towards enhancing clarity and creates a wider sound stage. The side passive radiators help optimise the clear bass sound. Each cellular speaker is mica reinforced and sealed with a dust cap which also pitches in with the sound quality.
There is a noticeable difference when you activate Extra Bass and it's worth having on all the time even though it will bring the battery performance down from 12 hours without it to 10 hours with Extra Bass.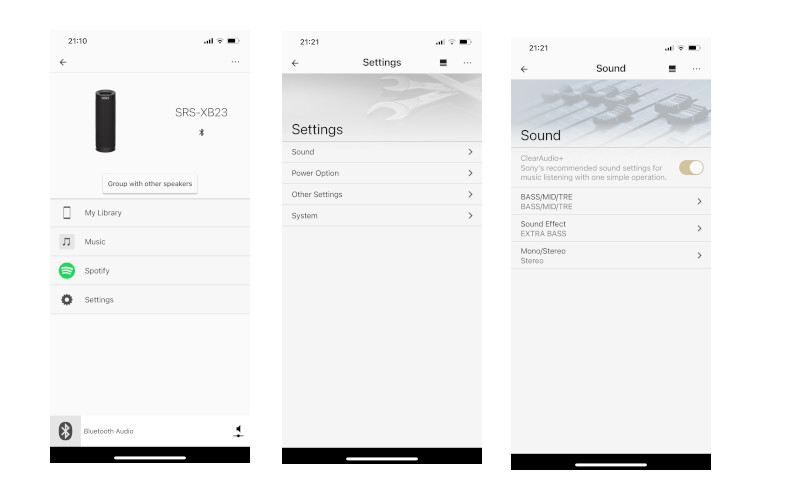 Cons
Value for Money
For the price range, the Sony SRS-XB23, in my opinion, is probably one of the best speakers to buy. It provides rugged and waterproof build quality and the sound is great but I'm sure some would argue not perfect.
Battery wise, it's got decent credentials with up to 12 hours on a single charge but, as mentioned earlier, it's worth sacrificing two hours of battery life to have Extra Bass on all the time.
Play it loud with EXTRA BASS sound
Waterproof, rustproof, dustproof and shockproof IP67 design for worry-free usage
Power through any playlist with up to 12 hours of battery life
Compact, lightweight, highly portable design
Get things booming with Party Connect and sync up to 100 speakers
X-Balanced Speaker Unit enhances sound quality and power
The speakerphone function offers a convenient way to talk hands-free, whether it's a conference call for work or a chat with friends
Latest posts by Gary Woodfine
(see all)