Working as a Freelance/Contractor Developer/ Digital Architect/ Software Engineer/ IT Consultant often requires working wherever required. Although over the last decade or so I have predominantly worked from purpose built home office, I am occasionally required to work or visit clients office, usually having to fashion a functional and comfortable work station from rudimentary means.
Over the years, I have often been dumped in Boardrooms or in some extreme cases, and this is no exaggeration a broom cupboard or staff kitchen table. Which is usually a far cry from the dream usually espoused by the Digital Nomad lifestyle enthusiasts, influenced by the 4 hour work week, involves illusions of working on some idyllic beach or five star hotel.
For the most part, it's a case of 'Have laptop - can work', so anywhere with enough space to accommodate a laptop and chair is enough. However, anyone who has worked a few hours hunched over a laptop can testify, this does lead to certain amount of discomfort and strain. In my case, it's usually neck, shoulders and lower back.
This has lead to me over the years, packing into my laptop bag a few must have utilities that will enable me to set up a comfortable and productive work station with relative ease. I have added an additional Microsoft Sculpt Keyboard and Logitech M570 Wireless Trackball Mouse to my bag because that is exactly the same as I use on both my office and standing desk. I like to try keep things standard and familiar for myself.
This really helps, but one thing I have noticed is that a lot of the strain on my shoulders and neck actually comes from looking down to my laptop screen. It is therefore necessary to elevate the screen to eye level. Often I have found myself, fashioning a laptop stand out of any materials I can find lying around i.e. books or any flat surface.
Laptop Stand
At home when working on my laptop on the sofa or creating a make shift workstation in the garden in the summer, I usually make use of Lavolta laptop stand which I have also used to create a standing desk in my office. However, despite the functionality and versatility of the Lavolta Laptop stand its not really great to travel with, primarily because of its size and weight.
I found myself in the market for a lightweight and fold-able laptop stand. One that is lightweight but fold able to a convenient size so can easily be stored in my bag.
A colleague recommended the Nexstand Laptop Stand – Portable Laptop Stand, and I thought I would give it a try.
I am really pleased I did. It has really transformed my nomad working life and I no longer experience the neck, shoulder and back strain that has quite often plagued me when working away from my comfortable home office. Within seconds I am able to transform any work location into a comfortable one.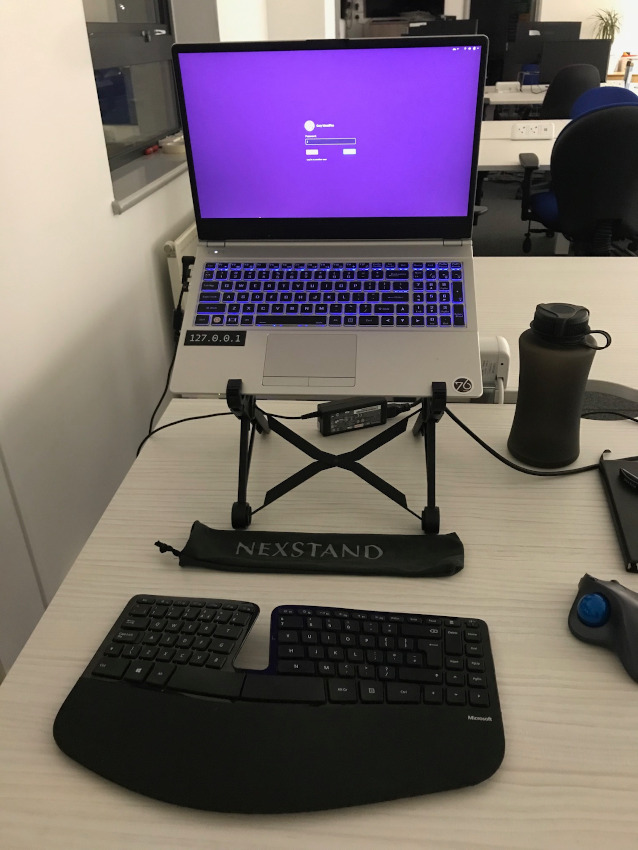 Nexstand K2 Laptop Stand
The Nexstand K2 Laptop stand is a portable, foldable and with 8 height adjustable options notebook stand that easy and lightweight to carry around.
It is really handy to raise the laptop screen height to your eye-level for maximum comfort and improved ergonomics. You can have healthy posture wherever your traveling lifestyle takes you..
The stand is more than sturdy enough to hold my System76 15" Darter pro laptop and is really lightweight and fold able that it doesn't really take up much room in my bag or add any additional weight compared to everything else I carry in it.
I regularly make use of the stand to create a comfortable workstation in almost any location I find myself to work. for instance, coffee shops, hotel rooms or lobby's and even the occasional broom cupboard or staff kitchen. Within a few seconds I can fashion a comfortable workstation.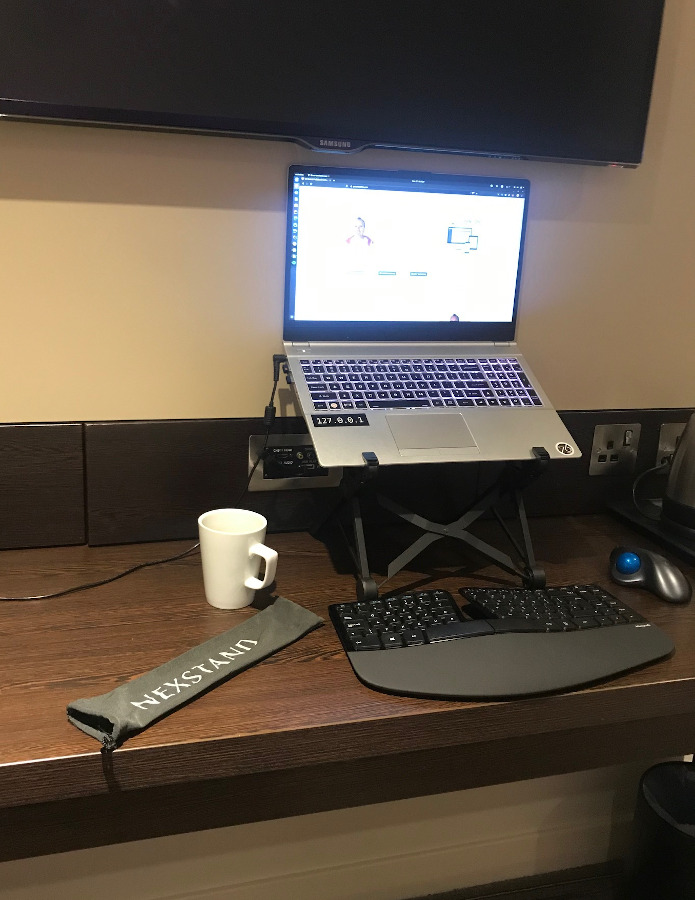 The stand itself, is really lightweight, only 226g, and when folded doesn't take up much space at all in my bag. The bonus is that the stand comes with a really handy bag to package the stand up when not in use so your stand doesn't get damaged or scratched in your bag, and more to the point it doesn't damage or scratch your laptop when in the bag either.
The NexStand K2 build quality is top notch with industrial-grade reinforced nylon and high quality metal fittings. When folded the stand dimensions are , 35.4cm X 4cm X 4cm . When unfolded and ready for action at its lowest setting 300mm X 278mm X 160mm and highest: 265mm X 250mm X 259mm.
I've been regularly using my stand now for well over 3 months and don't have anything negative to report about it. Other than it does one thing and does it really well.
I would add though, that I have not attempted to type on my laptop while in the stand, which as you can tell by the photo's is not typically how I use the stand, as I tend to carry my Microsoft Sculpt keyboard and logitech trackball mouse with me where ever I go, even though this may add additional weight to my bag, are vitally important to setting up my comfortable workstation.
Besides providing improved viewing angle and ergonomics when using with external keyboard and mouse, NexStand K2 helps to cool down your laptop because with minimal contact on your Laptop, it ensures sufficient airflow and heat reduction through 360 degrees. Ensuring your laptop has great ventilation.
Nexstand K2 Laptop stand design
The Nexstand has a solid design and build quality. It's claimed to be made from environmentally friendly materials. It is mostly comprises Industrial grade re-inforced nylon which is essentially a really hard and durable plastic
The Nexstand K2 laptop stand feels very sturdy and once your laptop is in place it is very secure and stable. Nexstand K2 is capable of holding up to 9.5 kilograms. which is equivalent to about 2-6 times what the average laptop weighs.
Nexstand K2 fits and can be used with any laptop that had a front edge of less than 0.78 inches (2 cm) and a width greater than 10.82 inches (27.5 cm). While this range doesn't encompass almost every laptop, it's close enough to say just about any modern laptop is going to be compatible with the Nexstand K2. As you can tell from the photos above the Nexstand K2 laptop stand is capable of holding my System76 Darter Pro laptop and I also use it my Apple Mac book pro
Summary
In my opinion and experience NexStand K2 Laptop Stand is the perfect match for your laptop on the go. Helping to improve viewing angle with 8 height adjustments to suit.
Nexstand K2 Laptop Stand
FITS ALMOST ALL MAKES AND MODELS – Universal fit for almost all laptops 11.6 inches or larger with a front-edge less than 1 inch thick and keyboard width greater than 11 inches.
HEIGHT ADJUSTABLE WITH 7 SETTINGS – Adjustable laptop stand offering from 5.5 inches to 12.6 inches of lift, with height adjustment letting you raise screen height to eye level for comfort and protection from injury. Helps improve posture over long hours of working at your computer.
DURABLE AND STABLE - Made of industrial-grade reinforced nylon and premium metal fittings to hold up to 20 pounds, 2 to 6 times the average weight of a laptop.
COMPACT, LIGHTWEIGHT AND FOLDABLE - Weighs just 8 ounces, folds and comes with high-quality nylon carrying sleeve for easy transport.
Latest posts by Gary Woodfine
(see all)