I recently wanted to upgrade most of my computing equipment mostly because I am fed up with my existing equipment mysteriously slowing down after some operating system upgrades. I won't name the previous purveyor of said equipment, but needless to say, they are fruit based name.
I have always appreciated the build and design quality of the manufacturers and the fact that the OS is *nix based was always going to be a big draw. Although of the past few years I have been mostly focused on using Ubuntu.
I have a strange loyalty connection to Ubuntu, primarily based on the fact that I grew up in South Africa and the name is derived from a Zulu word and the Founder of Canonical, Mark Shuttleworth also grew up in South Africa.
Over the years my typical approach to buying laptops has been to buy Windows-based laptop then to format the drive and install Ubuntu on it. This obviously introduces risks because for the most part as soon as you do that in most cases you wipe out warranty.
In many ways, this was one of the primary reasons why I started using the branded fruit products. Although not totally Linux it was close enough to the experience
For my new laptop, I wanted a device that had similar build and design quality but I wanted a purely Linux based. This is because my main Development machine is Viglen Desktop with Ubuntu 18.04 and I also have a fruit-based name Mini computer too.
The System76 Darter Pro immediately attracted my attention, especially when I spec-ed it up with:
Ubuntu 18.04 LTS (64-bit)
15" Matte FHD 1080p Matte FHD Display
4.6 GHz i7-8565U (1.8 up to 4.60 GHz - 8MB Cache , 4 Cores, 8 Threads)
32 GB Dual Channel DDR4 at 2400MHz (2 X 16 GB)
2 TB Seq Read: 545 MB/s, Write: 525 MB/s
WiFi up to 867 Mbps + Bluetooth
The Darter Pro is a new laptop that has been added to the line of Linux-powered computers and, in keeping with recent trends in the PC space, it's a relatively thin and light machine with a fairly big display and a big battery.
Like all System76 computers, the Darter Pro is available with a choice of Ubuntu 18.04 LTS, Ubuntu 18.10, or Pop!_OS 18.04 LTS (which is the company's own custom fork of Ubuntu).
I opted to go for the standard Ubuntu 18.04, primarily due to reasons discussed earlier and because I just wanted some kind of conformity. However, I will be more than likely be purchasing System76 Meerkat later in the year and will be tempted to try out the PoP OS.
I'm not typically one to place much stock in Benchmark tests, primarily because I much prefer real-world use cases and nothing beats personal experience. Despite this I did do some basic research in order to understand what I could potentially expect, I found the A Linux user review of the Darter Pro laptop from System76 to provide as much of the relevant information I needed, which provided enough justification to go ahead and make my purchase.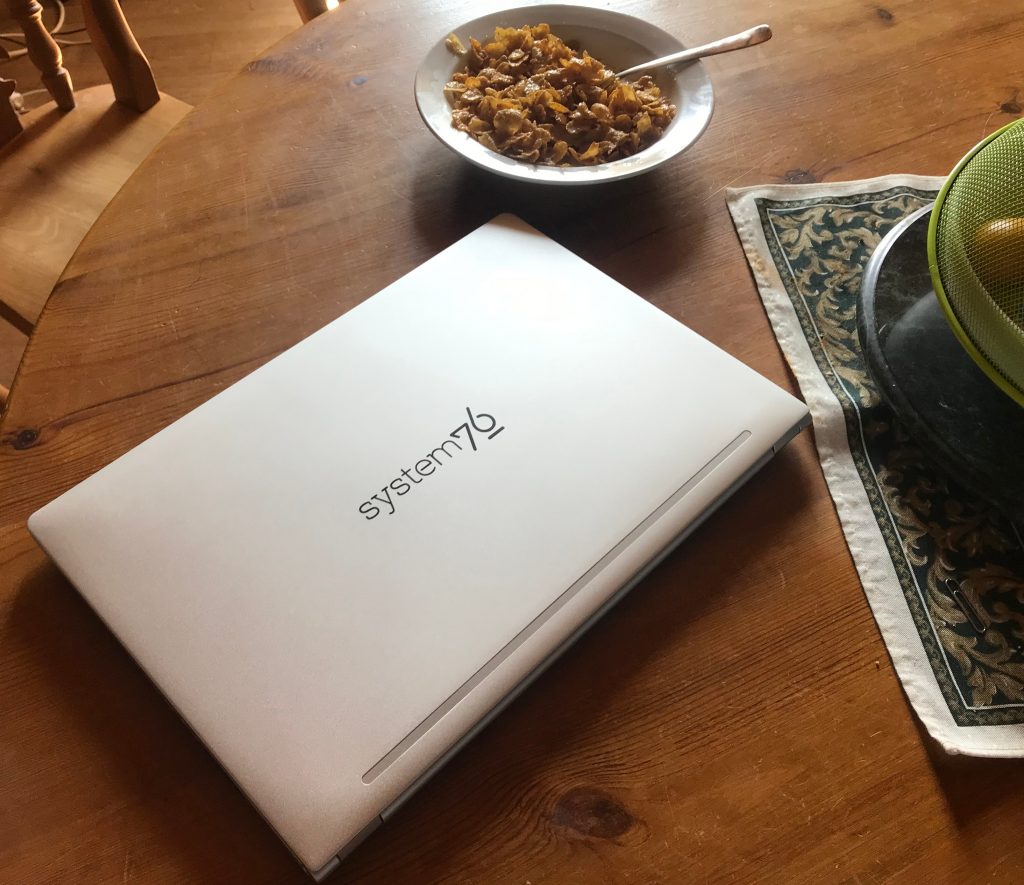 The purchase experience
I have to say on the whole I am totally stoked about the purchase experience. The customer experience was great from the beginning. Considering I'm based in the UK and System76 is based in US, there are no physical dealerships in the UK so the only way to purchase is via the website. Which is not a problem for me, as a vast majority of my purchases are made via the internet.
When I initially ordered the item, system76 notified me that due to fact that each device is only built on order that it could take up to 6 days before the item would be shipped, which really wasn't an issue. Needless to say I was delighted when only 3 days later that my item had been shipped and I could expect to take delivery within the next 3 days.
Well after a minor delay, which due in part to UK customs and excise and an additional £300 in import taxes I took delivery of my new laptop within 10 days of purchase.
Which in reality is not long delay, considering each laptop is custom built on order.
I had a couple of issues while the laptop was delayed by customs, which may have been caused by either a miscommunication or lack of communication between the courier and UK customs and excise. I contacted the System76 customer support and they endeavored to do everything within their power to help move things along and were always available and responded promptly.
The device experience
The user experience of the device is awesome! In fact I am typing this blog post on the device and I totally dig the keyboard. The keys really do make for an addictive typing experience just like the marketing says!
The only minor thing I don't like but reality is I can live with, is that the keyboard is US layout. Which isn't that too dissimilar from the UK on the whole but with the minor annoyance of missing £ which helps me to not talk about money when working.
It's still a bit of novelty to me, but I love changing the colour of backlit keys whenever I feel like a change, which I seem to do quite often! I'm sure the novelty will wear off, but I am enjoying it!
The keyboard layout, as you would expect is well suited for the Linux geek and I find it such a joy to use.
I have been only using the laptop this past week, primarily because I am working from the house in the French countryside and not in my usual home office, so I have been spending a vast majority of the day with the laptop on my lap and lying on the couch coding. I have to say it's been a pleasure, do in part that not only is the laptop super light and you hardly know that it's there, but also because the screen is just so good on the eyes and a joy to use.
The mouse pad is great to use and I have found the feedback and quick response fantastic.
The coding experience
I know most Linux based developers will more than likely be Vim based but personally I can't stand Vim and primarily make use of Jet Brains IDE's. I have a Jetbrains All Products Subscription so I am able to install all of my favourite IDE's tailored for the specific languages. So I have Rider, Webstorm, PHPStorm, Pycharm, DataGrip and RubyMine installed.
Lately I have also been doing a lot of AI-based development so I have also installed Set up Anaconda, Jupyter Notebook, Tensorflow for Deep Learning and have also installed Docker for development purposes.
I also have PHP and the full Laravel development with vagrant and the virtual box environments.
Over the past week, I have been engaging in a typical weekly development routine, which this week has been primarily been focused on .net core Web API development, Vue.Js frontend development, .net core console application developments, docker and kubenetes, AWS lambda development and then a bit of continued AI learning etc.
It's been an absolute pleasure using the laptop and I have been really pleased with just how quick it is. There just never seems to any lag and it has coped really well with the demands of multi-tasking and multi workspaces.
The Tech Experience
The Darter Pro laptop comes in an ultra-portable and thin chassis only 18mm in size and 1.6 kg in weight.
The Linux laptop also features a beautiful 15.6-inch Matte IPS Full HD (1920x1080) display​ and a multi-colour backlit keyboard with tactile feedback.
It also comes with all the ports you need, including USB 3.1 Type-C with Thunderbolt 3, USB 3.1 Type-A, HDMI, MiniDP, and Gigabit Ethernet. An SD card reader is also present and the laptop features next-generation Intel Wireless-AC and Bluetooth support.
Software developers need connectivity ports, the Darter Pro comes with as many as you need.
Battery
It is my opinion that Developers will always struggle with Battery charge on most laptops, especially if like me you are doing a lot AI and cloud based work. It takes a lot of energy and battery power to drive those compute cycles. However, I have been quite impressed with the battery power on the laptop because I have been able in average to get at least 5 straight hours on one charge while doing quite a lot of heavy based development work. So on the whole I have been impressed with it.
Potential Drawbacks
There are 1 or 2 issues with the laptop that are worth highlighting just in case others think that these are deal breakers for them.
The first one that springs to mind is the Sound. If you are accustomed to listening to music or participating in video conferences via your laptop then you might be disappointed by the on-board sound because even with the volume up full blast the sound is poor.
Personally, this is not that much of an issue. I mostly use my laptop for when I am mobile from the office and working in coffee shops etc, so I always tend to carry my Bluedio HT Turbine Wireless Bluetooth 4.1 Stereo Headphones with Mic and I am effortlessly able to connect my headphones via Bluetooth, so using Zoom, WhatsApp, Slack and Skype is no problem at all and it is how I would typically use them anyway.
The other is as I mentioned earlier, which mostly only pertains to UK users is that the Keyboard is US layout but this really hasn't inconvenienced myself at all.
Summary
I am extremely happy with my System76 Darter Pro it really has brought the joy back into coding on the move. So much so I will probably be purposely frequenting coffee shops just as an excuse to use my Darter Pro. It's going to make going back to my beloved Desktop computer a real drag.
In all likelihood I am probably going to persuade she who should be obeyed that I really need a System76 Thielo too! If you haven't already guessed I have probably become one of those annoying System76 Fan Boys!
Latest posts by Gary Woodfine
(see all)