I have been updating my travel work accessories in order to to be able to create a comfortable working environment anywhere I need too. My travel work station typically includes my System 76 Darter Pro laptop , K2 Nexstand laptop stand and Microsoft Sculpt keyboard. I needed to comfortable mouse to finish off what in my opinion to be a great set up.
I am not going to bore you with a detailed explanation or reasoning behind track ball mice.
There are two types of people in this world, those who use track ball mice and those who don't.
I am a big fan Logitech M570 Trackman Wireless Trackball Mouse and have several of them in home office and have used them for years. Having used track ball mice for over 2 decades, initially starting off using Microsoft D67-00001 Trackball Optical Mouse, I definitely wanted a trackball my travel bag, but I didn't really want to use one of my Logitech M570 Trackman Wireless Trackball Mouse, mostly due to the fact that it requires me carting around USB adapter, which could easily get lost or even damaged.
My System 76 Darter Pro comes with Bluetooth connectivity and ideally I wanted a device that was rechargeable so I didn't have to carry around too many spare batteries. so I thought I would look at a range of Bluetooth enabled trackball mice and stumbled Logitech MX ERGO Advanced Wireless Trackball .
Design
As far as the design goes, the mouse is not too dissimilar from the Logitech M570 Trackman Wireless Trackball Mouse, but there additional points that are worth mentioning.
There is a definite High-end office device look and feel about the mouse. it feels solid to the touch and there is a plastic rubber coating on the mouse not only feels comfortable but it does help to ensure your hand doesn't slip off when sweaty. This may does sound weird at first, but in the summer this did come in handy, when I worked in an office without aircon!
The mouse is biggish and heavy—5.22 X 2.02 X 3.93 (HWD) and 0.02834952kg, too. Since the MX Ergo is going to stay put on your desk, it doesn't really matter how much it weighs, and the solid metal base is sturdy enough that there is absolutely wobbling. My hand nests comfortably without any of my fingers hanging off the end.
The button configuration of the buttons is not too dissimilar but there are a few additional buttons, which I have to admit I very seldom use for a couple of reasons. There is what is defined as a precision switch for the track ball, which slows the movement down of the pointer for you if you doing precision tasks like photo editing or some such. As a software developer, this is not something I spend so much of my time doing, so I think I can count on my one finger how many times I've used that functionality.
Then there are the paging buttons on the side, which I believe help you when paging through documents, but again these are buttons I very seldom use. In fact, my Logitech M570 Trackman Wireless Trackball Mouse also has these features and if I'm honest I had to check that they did and I don't really recall ever using them!
The 3 features I do use quite heavily is the scroll wheel, click pads and the track ball. These features work just as well as the M570.
Probably the most standout design feature regarding the Logitech MX Ergo Wireless Trackball Mouse is what appears to be a removable metal plate.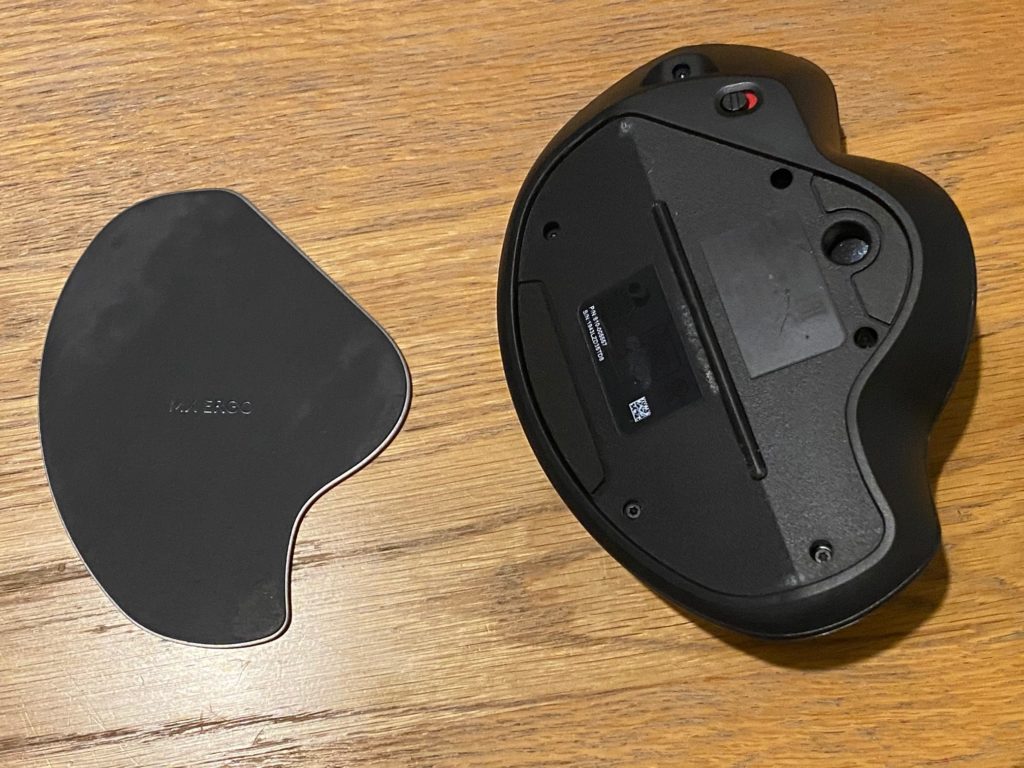 When I first got the mouse I originally thought this was just some useless gimmick, but in reality I have found this really useful. It helps to adjust the tilt of the mouse to improve comfort throughout the day. The unique adjustable hinge allows you to adjust the angle for personalized comfort and 20 percent less muscular strain.
Device software
Apparently there is additional device software you can install to further customize the mouse, but as usual Linux users are never catered for so I have not installed this to try it out.
Connectivity
You have a choice of connectivity options between Logitech's own Unifying Receiver (a small USB dongle is included to plug into your machine) or through Bluetooth. I mostly make use of the Bluetooth connectivity and have experienced no issues connecting via Bluetooth to both my System 76 Darter Pro or my Apple Mac Mini desktop which are the two devices I have paired the device with.
There is a handy switch that helps you switch your device between 2 different machine setup. Cross-computer control- game-changing capacity to navigate seamlessly on 2 computers, and copy-paste text, images, and files from one to the other using Logitech flow. - Although Linux users be warned this is not available.
Battery and charging
The aspect I really like about this mouse, is that the mouse seems like it could go on forever on a single charge! The documentation indicates that you can get 4 months off a single charge, which probably based on daily use, but I have experienced 6-8 months off single charge. You can also get at least 2 days off a 10 minute charge!
I connect the charging cable to a spare USB Type A port on my computer to charge to full battery. The USB cable is only for charging—you must connect wirelessly to actually use the mouse—and it's a bit odd that Logitech has eschewed USB-C, since those ports are the future of USB connectivity. Despite this my System 76 Darter Pro comes with an abundance of connectivity points so I don't really care either way!
Optional extra
As mentioned previously, the primary reason for purchasing this mouse is for use on the road. So I will undoubtedly carrying it around in my laptop bag and as such I didn't really want to getting damaged. So I decided to purchase a neat padded cover to store my mouse in while traveling, the Hard Travel Case for Logitech MX Ergo Advanced Wireless Trackball Mouse by co2CREA is perfect for this.
The case is shockproof dustproof and water resistance, protect your favorite device from bumps dents and scratches.