Ledger nano x
The best way to securely buy, manage and grow all your digital assets
Going down the crypto-currency rabbit hole usually entails a lot of learning about money and the current financial system. One shouldn't just be going blindly getting involved with crypto unless you know which problems it solves and why. You cannot call yourself an investor in anything unless you know about the underlying thing you are investing.
Bitcoin and the associated ecosystems of alternative cryptocurrency may be compelling from a "Number go up" speculation strategy a.k.a Gambling, but if you really want to succeed with crypto you have to take the time and effort to learn about it.
Probably one of the most important things to understand and learn about the Bitcoin and Cryptocurrency is importance of what is known as Self-Custody.
What is Self Custody ?
Self-custody is a means of holding your digital assets by which only you have access to them. This means that you choose not to use a third party, and instead will manage your private keys personally.
This can be done through a variety of methods such as a digital wallet a hardware wallet or a paper wallet. By taking control of your own assets you can avoid the need to trust a third party with your funds.
Cryptocurrencies are digital or virtual tokens that use cryptography to secure their transactions and to control the creation of new units. Cryptocurrencies are decentralized meaning they are not subject to government or financial institution control. While this freedom offers many advantages it also leaves cryptocurrencies vulnerable to theft.
Cryptocurrency exchanges and wallets, like crypto.com , coinbase, Uphold et, are prime targets for and are frequently hacked, and individual investors are often the target of phishing scams if they have funds on exchanges. In order to protect your cryptocurrency investments it is important to be mindful of security processes.
Not your keys, Not your Coins
Why is Self Custody Important?
The best way to make sure that your wealth will be preserved for the future, is to invest in cryptocurrency and by self-custody, you can verify that your wealth is cryptographic-ally in your possession without having to trust a third-party and that, under no circumstance and by no authority can be seized or taken from you.
It's important to remember that your Coins or tokens are still stored on the Blockchain, but you are storing the public and private keys to access those tokens on your device. So you are not actually storing the coins on your nano x, you're just storing the keys to access them.
The importance of Self Custody
Who should buy a Ledger Nano X?
If you're serious about cryptocurrency and aware of the dangers of storing your crypto on exchanges then a Ledger Nano hardware wallet is for you.
The primary purpose of a ledger nano device is to be the easiest way to secure your Bitcoin and cryptocurrency offline. Ledger devices make use of something called a secure element. This helps make them resistant to physical attacks and allows for a more secure cold storage of your coins. This also protects the private keys from malware and means improved security over other software wallets.
Nano S and Nano X are crypto hardware wallets offering cold, offline storage. Built by Ledger, a well-known French manufacturer, these wallets keep cryptocurrency secure and support over 1,800 coins and tokens.
The Nano S is made for people who want to hold onto a small amount of crypto, whereas Nano X is better for active investors with diverse crypto holdings.
I opted for the Nano X, despite the fact that I primarily mostly only buy and the vast majority of my crypto portfolio consists of Bitcoin. I have purchased a number of alternative coins i.e. Cardano, Tezos, BAT and a few other smaller projects I found interesting. I'm not a big proponent of alt coins, however there are a few side projects which I have seen look promising, but I must stress these tokens should not be confused as currencies. In my opinion.
Bitcoin is the only currency, in that it could potentially become the next global standard reserve currency. All other crypto projects are merely tokens to access utility. The good news is the Nano X enables you to store and manage up to a 100 coins with a single wallet .
I'm currently not such a huge fan of NFT's (Non-Fungible Tokens), so I must admit I have not tried this functionality our yet but the nano x enables you to visualize, receive and send your Ethereum NFTs using the Ledger Live the hardware wallet interface application.
The Bitcoin Standard analyses the historical context to the rise of Bitcoin, the economic properties that have allowed it to grow quickly, and its likely economic, political, and social implications
About Ledger
Ledger was founded in 2014 as a company that sought to compete with Satoshi Labs and their line of Trezor hardware wallets. It is a fast paced, growing company developing security and infrastructure solutions for cryptocurrencies as well as blockchain applications for individuals and companies, by leveraging a distinctive, proprietary technology.
Ledger claims to have sold over 3,000,000 hardware wallets in more than 200 countries.
The Nano X provides cold storage by creating and storing your wallet's private keys offline. Additionally enabling you to natively manage ERC-20 and ERC-721 tokens.
The Ledger Nano X supports several new features including a larger screen and Bluetooth capabilities, over the cheaper Ledger Nano S .
Unpacking Nano X
The Ledger nano x arrives in a nice sturdy box and an elegant black sleeve, from which you slide out the box containing your Nano X.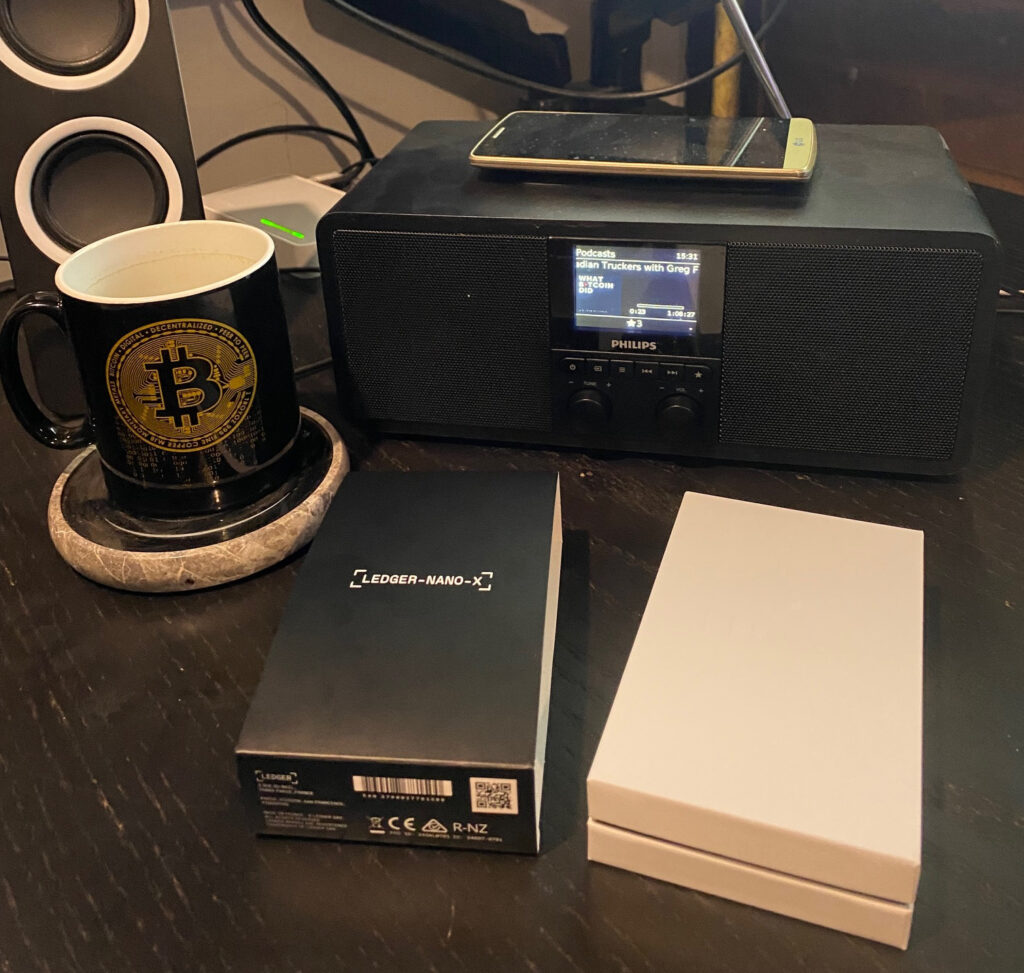 Opening the box and viewing the immediate contents and it contains the Nano x and a neat packet containing your Getting Started instructions, Use, Care and Regulatory statement, Stickers and 3 handy Recovery phrase cards
The Ledger Nano X comes nicely packaged and includes the following items:
Ledger Nano X
1 USB C cable
Keychain strap
3 recovery sheets
Ledger stickers
The Nano X has Bluetooth to easily connect to your mobile phone, or you can use the included USB-C to USB-A cable. You'll find this lead in the box in the tidy hidden compartment.
Ledger Live Wallet Interface
Ledger Live is Ledger's proprietary wallet interface software for desktop and mobile devices, making It simple to connect to a Nano X and send and receive coins quickly and easily via Bluetooth connection, via desktop or mobile app. Ledger does a great job of making it simple to transact and manage your Ledger Nano using Ledger Live
Ledger claims they cannot correlate names to Ledger Live accounts, but in crypto its better not to trust anyone and use a wallet interface that uses a full node you run yourself.
Configuring your Nano Ledger
Nano X uses is own operating system, bolos on the device , it is still compatible with iOS, MacOS, Android, Windows and Linux. It also works with desktop wallets like MyEtherWallet as well.
I use the Linux Desktop app and the both flavours of the mobile app (IOS & Android).
When registering your Ledger nano with the app, it confirms validity of your device to ensure it hasn't been tampered with. In my case, I had to also update the firmware of the device which can only be done using the Desktop application. This was all very self explanatory and the instructions to do so where very clear.
Optional Extra
I like to ensure that my hardware wallet is protected and secure. I tend to keep my ledger in a fireproof safe in an undisclosed location and as such I still like to ensure the device is protected as much as possible from wear and tear it may experience from being in the safe.
Thats why I also elected to buy a waterproof and shockproof carrying case. The one I bought is the MORINBO Ledger Nano X Waterproof & Shockproof hard EVA carry case . The Outside is hard case effectively protecting your ledger from from bumps and scratches. The sleek PU plated the protective case is water-resistant and easy to clean. It also features a pretty cool Bitcoin logo!
The inside is a nice sand interior impact-resistant padded velvet for effectively additional protection. A hand netted pocket to store you USB cable and straps to keep you Ledger in place.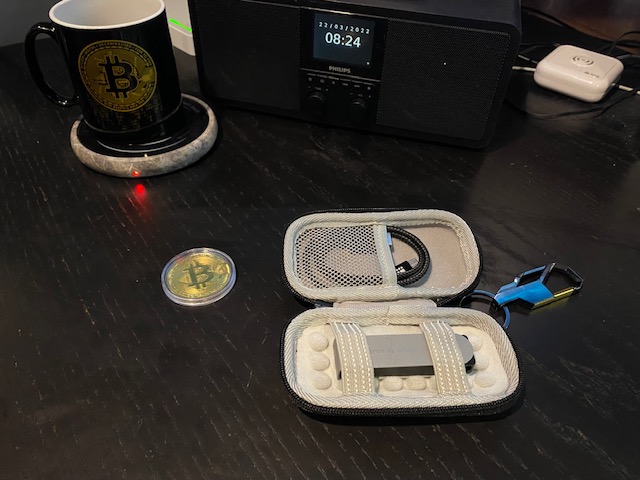 I'm a sucker for merchandise and this wallet comes with a cool , climbing carabiner clip and commemorative bitcoin.Â
Why I recommend this product
The Ledger Nano X is an improvement over its predecessor, the Ledger Nano S. While either are easily seen as high-quality cold storage devices, the Nano X may be more most useful to active traders and investors alike.
The buttons, display screen and connectivity options are nice extras to have.
The time saved with the improved display will certainly add up and eliminate the annoyance of waiting to confirm an entire address or wait for other information to be displayed.
The quality of life improvements of the X come at a premium, but it may be worth it to you, provided you understand the additional potential risks that come with the Bluetooth feature.
Storing your keys offline with a Ledger hardware wallet and keeping seed words backed up are great for ensuring the safety of your investments.
Keeping a backup phrase in a medium impervious to flames, floods, crushing or other forms of destruction is the most secure method toward ensuring reliable access to your funds in the case of an emergency.
Bluetooth enabled
USB-C cable
Improved Display
Multi-Signature support
Passphrase Support
Latest posts by Gary Woodfine
(see all)