Over the last decade in-home powerline communication has received increasing attention from both the industry and research community. The reuse of your home existing wiring system to deploy broadband services is certainly an attractive proposition for most homeowners, enabling the easy networking throughout the home to get connectivity where Wifi signal is poor or doesn't quite reach.

The technology that enables powerline communication has also improved greatly in the interim, and there have been advancement in the standards. In this post I will discus the different standards with the aim in mind of helping you to make optimum decision for your home.
In previous posts, I have discussed What are HomePlug Adaptors and why choose homeplug for your home network and I elaborated a bit more on What is a HomePlug Network.
I will aim to help you identify and differentiate between different HomePlug standards available, in order to help you choose the best standard for your requirements.
The use of Powerline technology a.k.a HomePlug adaptors, as a home networking solution has been steadily increasing over the past few years. The first incarnation and the first standard released, on inception in 2001, - HomePlug 1.0 - it was seen as a quirky alternative home networking solution, with wireless becoming the dominant solution. However, in 2013 the latest standard HomePlug AV2, the contender has now become a first choice solution.
Many households are starting to adopt HomePlugs to fulfil an ever-increasing demand for network capability. This demand is set to increase as the demand for Internet connected devices in the home increases.
Most broadband providers supply a WiFi capable router, but unfortunately most homes suffer from WiFi Deadspots.
You may also want to extend the range of WiFi networks, especially during the summer months, when desire to work from your garden strikes.
HomePlug adapters are easy, reliable and cost-effective way to connect devices, especially when far from your router. By simply connecting one adapter to your router, you connect your router's broadband Internet signal to every outlet in the home.
HomePlug Adaptors enable you to plug in and connect as many additional adapters as you need to provide a reliable high-speed Internet connection to your game console, PC, Smart TV, Internet radio, etc.
There have been a few differing standards for HomePlug over the years causing a lot of confusion and misconceptions regarding this technology. The following will be a brief summary to explain the difference between 1.0, AV and AV2 HomePlug in order to clear any misunderstandings and provide the uninitiated with an overview of the technology thus far.
Homeplug 1.0
The initial release in November 2001, the first powerline networking specification to connect devices to each other through the home electrical circuit. It revolutionised the way we connect to the Internet.
Homeplug 1.0 came in two speeds with initial 14Mbps versions being superseded by the 85Mbps 'Turbo' Homeplugs.
HomePlugs based on the 1.0 standard, still work great if you are connecting a desktop computer and will be doing basic web surfing and email etc. However, once you start pushing it any further than that, for instance attempting to watch you tube videos or listen to pod casts or stream music, you'll soon run into performance problems
When I first started working from home in 2010, I purchased the Solwise 85Mbps Homeplug Adapter which worked fantastically well because I was only using them for basic web tasks, to connect my Home office. I converted space in my double garage to create an office, the Wifi connection from the house was extremely poor. I was able to connect my 5 PC's, laptops and printer in the garage to the broadband router.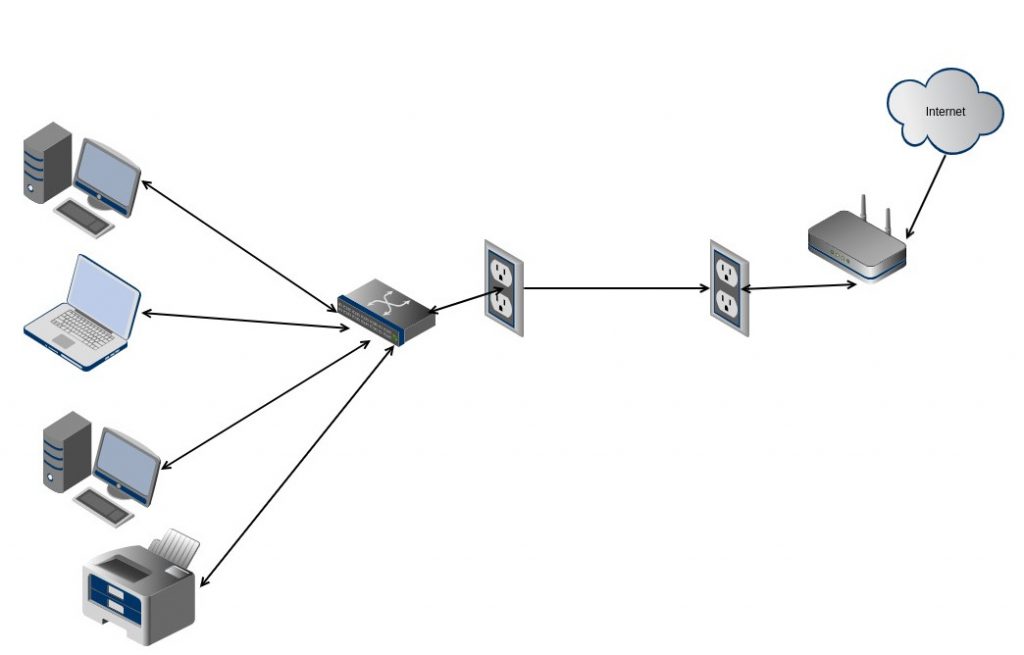 This set up worked well for the tasks I was mostly doing at the time which included Remote Desktop Connection to servers and PCs over the internet. Basic software development tasks like conencting to version control systems over the internet etc.
I made use of this setup for well over 2 years, with no issues. However, as my business evolved and I took on more clients across the globe, the need for more internet enabled communications increased. Skype video calls, Lync calls, Webinars and the like I did notice performance over powerline just wasn't up to the task. I needed to upgrade and started to research options.
HomePlug AV
The second release of the specification in 2005 to deliver raw data speeds up to 200 Mbps using the home electrical circuits. It was built from the ground up to support entertainment applications, such as HDTV and home theatre.
A convenient and cost-effective method of distributing HDTV in the home without the need for wires.
Until 2013, it was the best solution available. Personally I have no experience of this release of this standard, because for the most part Homeplug 1.0 sufficed for my needs, and by the time I needed to upgrade the Homeplug AV2 standard became available.
HomePlug AV2
Specification was announced in January 2012 to deliver up to 1000Mbps/Gigabit performance (that's five times better than an AV 200 mbps HomePlug), in addition to improved home coverage.
This standard was designed specifically to work well when streaming HDTV, using VoIP phones, playing online games and recording security camera footage
The AV2 standard copes much better with the high-bandwidth needed and need for low-latency and quick response time.
I originally bought and installed the Aztech Solwise 500AV HomePlug Ethernet Adapter with Mains Pass Through and 2 x 10/100 Ports in 2013 and they worked fantastically well. They enabled me to perform all tasks required without so much as an issue.
I have delivered online training, sharing my desktop to users all over the world. Do presentations, stream videos and all manner of high bandwifth tasks without any issue at all.
At the beginning of 2018, I decided to upgrade my Homeplug network, not due to any performance issues, but just rather to facilitate my rapidly growing Amazon echo network, after purchasing an Amazon echo plus and then purchasing each of my daughters an Amazon Echo for their rooms. I needed to boost the Wifi because reach was poor to each of their rooms.
I bought and installed TP-Link TL-PA8010PKIT 1200 Mbps Gigabit Passthrough Powerline for the office and at the same time purchased the TP-Link TL-WPA4220KIT 2-Port Powerline Adapter Broadband/WiFi Extender to boost the Wifi upstairs.
AV2 will deliver a much better experience for Audio Visual tasks.
For my home office I personally make use of TP-Link TL-PA8010PKIT 1200 Mbps Gigabit Passthrough Powerline
Offering a stable, high-speed data transfer rate up to 1200Mbps on a line length up to 300 meters.
These homeplug adaptors also have 2X2 MIMO technology which enables the TL-PA8010P KIT to communicate with multiple devices at the same time for more stable powerline speeds. With Gigabit Ethernet port, you can connect smart TVs, game consoles and computers for seamless 4K streaming and lag-free gaming anywhere in your home. Also, it features two pass-through sockets, so you can use the socket as usual.
Offering Simple plug and play, no configuration required. It also uses power-saving technology to conserve up to 85% energy when not in use.
HomePlug AV2 standard compliant
High-speed data transfer rates of up to 1200 Mbps
Gigabit port provides secure wired networks
Integrated power socket ensures no power outlet goes to waste
3 years warranty
a TP-Link TL-PA8010PKIT 1200 Mbps Gigabit Passthrough Powerline Starter Kit is a good choice for a whole home solution to connect all network compatible devices:
Computers
Game consoles
Set-top boxes for IPTV
Printers
NAS hard drives.
Homeplug speed specifications
Each of the home plug standards has a headline data speed associated with it. For instance, the home plug 500AV standard is associated with 500 megabits per second. It is important to understand that this number does not represent the data throughput between two devices.
The data throughput rate between any pair of devices will be significantly less than the headline speed. There are a number of reasons for this discrepancy but you should understand that it is normal to represent networking equipment this way.
HomePlug AV2 standard offering speeds between 500 - 1200 mbps are ideal for most home users

if you consider the speed of your internet connection and the speeds required for the internal use of the home plugs, such as transferring of data from one computer to another you may find the 1200AV2 devices are more suited. This will certainly be the case if you have a very high-speed fibre connection or transfer very large files internally.
Top Tip
If you are considering purchasing a Homeplug adaptors I strongly recommend you purchase Pass Through type adaptors, for two very important reasons
Don't lose plug space
using a main-pass-through adapter at the router end solves the problem of noisy power supplies. Interference is caused by a number of things, noisy power supplies from routers
Summary
The major difference between the HomePlug Standards is not only the agae of the technology but also the through-put speeds available.
HomePlug AV2 standard offering speeds between 500 - 1200 mbps are ideal for most home users networking needs.
It is important to remember that the data throughput rate between any pair of devices will be significantly less than the advertised headline speed. This is due to the fact that there are a number of variable factors that could cause disruption to speeds.
These factors include:
Noisy mains
Age and State of the building electrical cabling
Type of building i.e. Apartment, house or communal building
Setting up a HomePlug network is incredibly easy and you will need at least 2 HomePlug adaptors to create a network. You can easily extend your HomePlug network by simply adding more HomePlugs.
It is recommended that if you are adding more HomePlugs to your home network, that they should all be of the same brand and have the same through-put speeds.
Latest posts by Gary Woodfine
(see all)