Product-Led Growth : How to build a product that sells itself
Why I read this book?
Regular readers of my blog will know that I have been engaged for the past year, in developing a side project which over time has morphed into start up business and I have even managed to attract an initial seed investment. They will also know that I have serve time at Denizon as Chief Technical Officer, where we have developed a suite of products primarily aimed at Energy Monitoring and Management and Workforce Management industry sectors.
The major take away I've taken from this experience, is that there is a world of difference in developing products to solve business issues and developing a product that is easy to sell! Over the years we have come to realise that our Sales process and cycle is in desperate need of modernisation and improvement. We have spent for too much time on the technical implementation of our product suite and not enough time on the marketing and sales implementation details.
Our sales process involved a number of traditional sales model and marketing, which in all honesty just doesn't work in the Software As A Service (Saas) business model, because it is not scale-able and for the most part very expensive and as we have come to realise over the past 18 months very restrictive on company growth. We realise we need to change if we have any hope of surviving let alone prosper!
Most of my career has been focused on coming with solutions to complex business problems, implementing solutions, helping to drive business efficiency and automating business processes. I have acquired skills in a range of different disciplines including SEO, Digital Marketing, Artificial Intelligence, Project Management, Business Management and a whole host of Software Development Frameworks, methodologies and languages. However, I have to confess that Sales has always been somewhat of a weakness. I have always been good at closing sales, but always really bad at finding the sales to close in the first place!
We have spent significant amounts of time, money and resources at Denizon on supposed Lead Generation and Digital Marketing agencies and implementing their advised strategies, but sadly with very little Return On Investment (ROI) . I have even read books, to get some background knowledge on the subject just to ensure we weren't having the wool pulled over our eyes by the many unscrupulous actors in this space.
Digital Marketing For Dummies
A guide to a well-rounded, shows you how to use proven digital marketing strategies and tactics to expand the reach of your brand, increase audience engagement, and acquire and monetize customers
Ryan Deiss, Russ Henneberry
Buy Now
Read Review
Over the past few months, I have been trying to read more books outside of my Technical comfort zone and trying to improve and round out my soft skills a lot more.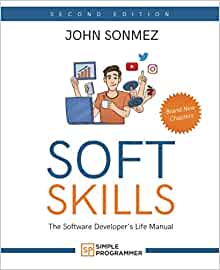 Soft Skills
The software developer's life manual
A guide to a well-rounded, satisfying life as a technology professional.
What I learned from this book
One of the key take-away's from this book, is that we Denizon completely failed at thinking about customer on-boarding when developing our solutions and we obviously relied on the old 1990's - 2000's era of sales process and customer on-boarding of Training and Education. This simply doesn't work in today's competitive market place. Customers simply don't want to waste time talking and negotiating with sales people and then incurring further cost of sending staff through training programmes etc. Regardless of whether they are held remotely etc.
It is also completely apparent that for the most part, they really don't want to spend hours configuring and tailoring products to suit their use case just to see if the product is a good fit!
These are all areas where our products failed miserably. Even after the first 3 chapters I realised that this book was going to be a game-changer for us. It also made me realise that although we may have been doing some of the right things, we were definitely doing them at the wrong time!
During the reading of this book, it became increasingly apparent that at no point during the development of our products had we ever considered how we could use the product itself to drive sales, which may sound counter-intuitive at first, but it becomes increasingly apparent as you realise the number of features you can implement in the product itself that not only enhance the product and usability itself, but primarily help to drive sales.
We now realise the number of mistakes we made, in actually making our products only solve a particular business problem for our users, but not actually address our own business problems of how to drive the sales!
For us this has actually kicked off a whole raft of additional work, to refactor and reverse engineer these aspects into our products. Which for us is now expensive and we have not even take into account the lost opportunity costs.
The important thing, is now we have learned our lessons and can move on. Fortunately, we are in a position to do so. However, I feel this book will provide many start-up entrepreneurs very many insightful points to help them to avoid our same errors!
Why I recommend this book
If you're a developer and working on a side project you're hoping to convert to a business or even a job replacement revenue scheme, then this book, in my opinion is a must read, because it certainly opened my eyes to a whole raft of other perspectives needed to create a product that ultimately sells itself.
Its important when implementing features, functionality, enhancements and designs for your product to take into consideration a lot more than just development burn downs and "quality", for us this has resulted in remodelling as what we considered a development team or even the product teams in general.
Latest posts by Gary Woodfine
(see all)