As we enter a new decade, I am taking the time to review my half a decade of blogging expertise.
Personally, I can't believe it! Firstly, that I have managed to stick to something for over 5 years and secondly people are still visiting my blog! These two things are truly remarkable. Judging by the comments I am receiving people are actually finding what I believe to be drivel some what useful!
Even these, yearly progress reports which I thought were only ever going to be read by myself and I have never really put all that much effort into, some people have found useful.
One thing I have learned during these past few years, is that it extremely important to sit back, reflect and review your progress. Particularly when you're struggling to carry on moving forward it can be useful just to look back and see how far you've come!
This has been particularly important for me this time because when all things are said and done. I very nearly called it quits on this blog around the beginning of December. I have just started to become a little dismayed about the volume of work and commitment maintaining a blog takes and for the most part I was starting to feel I just wasn't making any progress.
I have come to realize that progress can't really be measured by how close to your objective you are, but rather it needs to be measured by how far you have come! The only true measure of success is progress, because it is only by making progress that you will eventually achieve success!
In terms of my blog, I was starting to think of it more as a failure, based on the metrics that other people have achieved. This is the completely wrong metric to base anything on. Primarily due to the alternate realities most blogs and websites exist in.
I had foolishly been comparing my blog to number of others not necessarily in my niche or even in how it operates. For instance, there are a few people I know and aware of that are able to make what it appears to be a full time salary and more just from their blog and website income. Some have been able to do it in under 3 years.
My blog for this past year has only really helped me to make £1,500.00, when compared to what other bloggers proclaim to make is chicken feed. However, the reality is that it is actually a huge achievement! Considering it was only this past year that I wanted to start monetizing my blog in earnest.
Generating a Job Replacement income is not something I had even considered before or even knew a lot about. I had and still have a lot to learn about this area of blogging and the reality is that 2019 was about me only making tentative in roads in this area.
It is also important to consider the ecosystem and niche within which your blog operates. The side line or passive income generation capabilities of your blog are going to be dictated by the niche.
I came to realization only this month that I didn't really understand what my niche. If I'm brutally honest, I really didn't know what my niche was and I had a number of completely incorrect assumptions and perceptions. These were only really revealed by sitting down and analyzing data and reviewing progress. Throughout this post, I hope to not only provide insight and data to myself but to other technical bloggers
Yearly Traffic Report
Firstly, it is always important to review your yearly traffic progress. So by analyzing this years traffic reports on the whole it hasn't been a bad year at all. There have been definite improvements and on the whole I have managed to more or less double my monthly and yearly traffic volumes.
October had seen my blog reach the 50,000 views a month figure. This is an important milestone to reach for many blogs for a number of mostly monetization reasons. Mostly because that is generally the minimum monthly view limits many of the major monetization schemes around really start to take notice or even pay attention to your blog.
There are some monetization strategies that will consider blogs that have traffic below the 50K a month level but the reality is they don't pay that well and the chances of generating revenue from such low traffic volumes is really hard. Unless of course your website has a very clearly defined and targeted niche.
One of the goals I had set myself last year was to try to at least double my website traffic. Which is a goal I was more or less able to achieve, which in reflection I am more than happy about. It also has now spurred me on to set a goal of attempting to double that in this forthcoming year! I know in reality this is a massive stretch goal to achieve but at the same time it is also entirely possible based on previous data.
The vast majority of my traffic is also solely derived from Search Engine Traffic. I have an almost 80% organic search engine traffic source. This is also by mostly following everything I learned from SEO for dummies. I haven't done any clever black hat hacks or even employ anything more than the absolute basic knowledge and tactics. Literally the only money I have spent on SEO on my blog is I bought the book and worked through it.
I am no SEO guru or genius and to be perfectly honest I don't want to be. What I know is more than enough for now. I'm sure over the forthcoming year I will dive a little deeper into SEO but I have now built a sufficient platform to work from, based on everything I have learned from the book.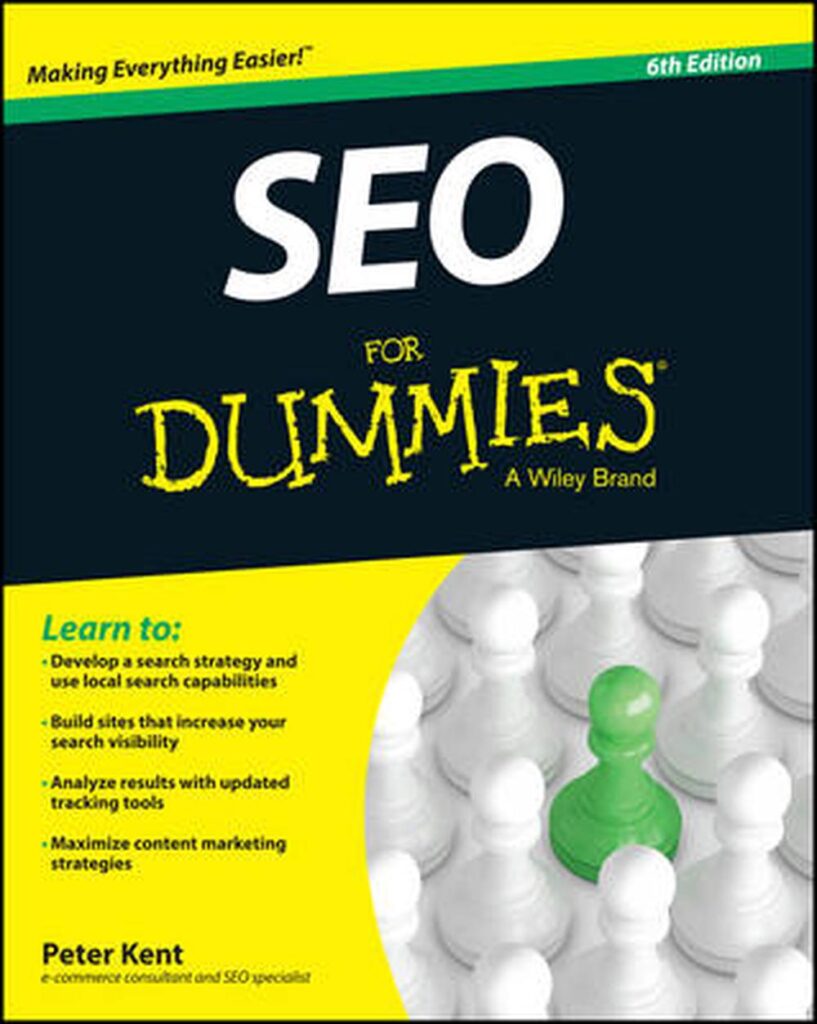 SEO For Dummies
Up relevance scores, improve page speed, optimize voice search questions, and more! 
shows website owners, developers, and search engine optimizers (SEOs) how to create a website that ranks at the top of search engines and has high-volume traffic, while answering the essential question of "how do I get people to visit my site?"
One of the things I have learned this year, is that measuring volume of traffic to your website can be nothing more than a vanity metric if you do nothing else with that data. I'll be the first to admit that I feel into this trap, because for most of the year I was doing nothing more than chasing numbers, instead of actually looking deeper into the numbers.
In fact there was also a period of this year when I hadn't realised that my Google Analytics was not collecting any data! I still don't really know what caused the issue but I think it was spent a bit of time fiddling with different settings and actually removed a plugin that was responsible for Google Analytics without even realizing it! Worse still is that it took over 3 months to even realize it.
I mostly make use of the JetPack Statistics to view my daily traffic count, mostly using the WordPress Mobile App on my phone to check my traffic stats. It's convenient and provides me with the data I need quickly and free of the clutter. The WordPress JetPack statistics plugin provides me with a great High Level overview of how my blog is doing on daily basis. Free of clutter and other distractions.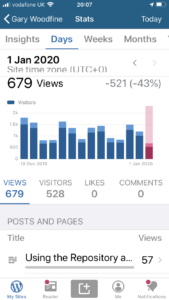 I make use the of the app on a daily basis to check my visitor count, I have to admit I do check in at least 4/5 times a day, maybe a bit more on the days on and after I post. Just to check how my new posts are doing. I am signed up to a few good Blog Redistribution networks so my content tends to get spread instantly resulting in almost instant traffic to my new blog posts. This often provides me with great insights into which bits of content are appreciated by my audience.
The downside of the app, is that it doesn't do as great a job as Google Analytics when trying to gain an understanding of your audience. Which is something I am starting to delve into deeper and deeper.
I had previously just assumed that my blog would be appreciated by Software Developers, without really considering that even further. I have now realized through diving deeper into data analysis that there are niches within niches and it is not always apparent where they are . This is where Google Analytics helps you to gain an understanding.
Diving deeper into my analytics I am able to discover that by far my largest demographic sector is the 25 - 34 year old market and the secondary being 35 -44 year olds.
This tells me that by far my biggest audience, going to comprise of more Junior to Mid-Level developers with some Senior Developers making use and visiting my content. A vast majority of them on 1 page visits, which means one of two things:
People land on the page and find everything they need use it and go.
People land on the page don't find what they need and feel the blog offers no more value and go
The common thing in both these scenarios is that I need to improve my content and really need to work on my approaches to drive and entice people further into my blog. In order to achieve my year objective of doubling my page views, the simplest way of doing this is to try ensure that I entice users to view additional pages within my blog.
So instead of having 1.12 views by users I need to try and grow this to 2.12 views by users!
It was this in mind that in September I started reading through Digital Marketing For Dummies to try and deepen my knowledge of Digital Marketing. The primary objective being to learn how to increase audience engagement, which I believe is a massive weakness.
I can only deduce that my content and SEO is good enough to attract attention to my blog, but my blog fails miserably to retain the attention. This has resulted in the later part of this year, to gradually shift my focus from Acquisition to Retention and the Primary objective for 2020 is user retention.
User retention is going to take a lot of hard work. So much more than Starting the Blog and SEO. It is also going to require a whole lot of new learning and discovery.
Digital Marketing For Dummies
A guide to a well-rounded, shows you how to use proven digital marketing strategies and tactics to expand the reach of your brand, increase audience engagement, and acquire and monetize customers
Ryan Deiss, Russ Henneberry
Buy Now
Read Review
Email newsletter
One of the first things I realized when embarking on my new Digital Marketing adventures is that I have never actively promoted or attempted to promote an email newsletter or grow a subscriber list, which is vitally important to help create return visitors and user engagement.
So earlier in 2019, I started add Email Newsletter subscription forms on strategic pages on my blog. I made a promise to myself that if I managed to get 50 people to sign up to my email list then I will start sending out email newsletter.
I have to admit, I was secretly hoping that I would never get any Subscribers and I thought 50 Subscriptions would be a figure I would possibly never receive! So I was completely surprised that after 2 months of adding my newsletter subscription forms, that I reached the total I had set.
So on the 5th October 2019, I sent my first ever email newsletter and hence forth started a new journey into Email Marketing, a field a literally no nothing at all about! So yet another thing I need to learn and master.
My email newsletter is probably going to rubbish for quite sometime, as I learn what to do and most importantly what not to do. It's not really part of my skill set and if I am brutally honest something that comes naturally to me. For people that know me well, they will vouch for the fact that I am not really a Keep In touch kind of guy, even with family members. So it does feel really strange and completely foreign to me to sit down and right a newsletter every month or week.
SO much so, that even though I have started the email newsletter, I have already started sending them very sporadically which is contrary to what even the Digital Marketing for Dummies prescribes. I am going to have to make it a clear objective for this year to define some kind of regular contact cycle and stick to it.
Monetization Strategies
Despite blogging for over 4 years at the start of 2019, I have not really tried to make money from it. Purely using blogging as learning tool and writing tutorials for others to benefit from. I have really enjoyed this, but unfortunately it does come at a cost. The most notable of those costs is actually my time. Then there is obviously the cost of hosting, maintenance, development etc.
All these costs do add up over time and can become expensive. Then there are also the unforeseen expenses that creep up. Let me assure you that running a blog and keeping it up to date is not cheap and it does not cost nothing.
Then there is also that despite they fact you're giving things away for nothing people always want and expect more. Take for instance, I write Free tutorials and provide Free Code samples and in a few instances provide Free Open Source Software Tools to help developers, People still expect me to provide Free Support and Maintenance.
There is only so much one can do for free, Especially when running a blog actually costs me money. So that is why in 2019 I decided to search for ways to monetize my blog, not with the aim of becoming one of those overnight blog millionaires but rather primarily to cover costs and possibly generate an additional income.
There is also a bit of weird expectation that people seem to place on people who blog, that even though that the people who blog often have no affiliation, financial connection or even involved in any way whatsoever in the subject they are blogging about. Other than coming at it from the point of view that "I had this problem and this is how I solved it" in the hope it helps others down the road. There are people out there that still think its appropriate to offer death threats and attempt to execute a sustained of what can only be described as bullying technique to make one feel inferior, just because you thought you'd try help a few people out!
Rest assured as 6"3 18 stone South African, ex blind side flanker who is used to either willingly run into other larger more brutish men or tackle them at any opportunity and the fact that I worked as Doorman/Bouncer for a number of years in London and Surrounding areas. Threats of violence or bodily harm and being called names are nothing new. But they do get rather tiresome and boring. So with that in mind I do need to have some kind of reward for putting up with it. Financial reward often softens the blow.
On the whole, I would say at least 80% of the traffic to. my blog is appreciative of the content and derive value from it. Those who aren't - well the old adage applies "You get what you paid for" , so if you've paid nothing and got nothing well then its still a great deal!
Latest posts by Gary Woodfine
(see all)